Movie Reviews
Washington County Observer-Reporter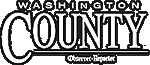 Saturday, September 15, 2001
by Brad Hundt

The Reviews are In: Local Moviegoers Call 'Reversal' a Hit
Shirley Shultz loved the movie "Reversal." The reasons?
"My son. My grandson. My daughter-in-law. The story . . . " the Houston resident said, after seeing the locally shot film Friday afternoon at Hollywood theaters at Washington Crown Center in North Franklin Township. It was the first screening of "Reversal" and she came to see family members who appear in it.
Josephine Stotka of Washington talks to her daughter on a pay phone in the lobby of Hollywood Theaters in Washington Crown Center in North Franklin township Friday moments after viewing "Reversal." Stotka's daugter was going to the 4:20 p.m. showing.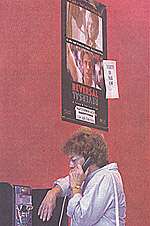 Her husband, Doug Shultz, agreed.
"The story was so true. I know fathers who are like that."
About 300 people were in the audience for the first look at the story of high school wrestling and familial conflict, which will be at Hollywood Theaters through Sept. 27. Advance tickets were sold out for the 7 p.m. screening Friday.
In fact, the theater's general manager, Brad Gange, thought the booking of "Reversal" would probably give business a boost at Hollywood Theaters this weekend. Customer traffic has been slow there since Tuesday, following the attacks on the World Trade Center and the Pentagon, and there's no big buzz-producing Hollywood offering opening this weekend.
"If not for the fact that this ("Reversal") is here now, we have no idea how we would do," Gange said. "We're here to give people a few hours' break."
"Reversal" was filmed in Washington County last year. It was produced by James Petulla, a California-based veteran of the radio industry, who stars in the film and wrote the script. He says it's based on his own experiences as a high school wrestler in Oil City, and the conflict he had with his father.
The cast includes Danny Mousetis, a wrestler at Washington High School at the time "Reversal" was made who now attends the University of Pennsylvania. Many other are residents appear as extras or in small roles.
"It was inspirational," said Josephine Stotka of Washington. "It was very touching. The father wanted the best for the son, but he was willing in the end to let him do what he wanted."