Movie Reviews
Film Threat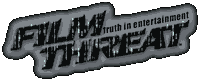 by Merle Bertrand
November 11, 2002

Reversal
Play a word association game with the vast majority of people and say the word "wrestling," and they'll immediately picture that godawful abomination and sign of the coming Apocalypse known as "professional" wrestling. Now as anyone with a clue realizes, professional wrestling, as seen on any of the plethora of WWF pay-per-view extravaganzas, is about as much of a real sport as, say, ice skating. Because let's face it, while they both might be athletic and entertaining in their own sick and perverted way, neither one is really an objective competition and they're both rigged.
REAL wrestling, like the kind that's at the heart of director Alan Vint's coming of age melodrama "Reversal," is another matter entirely. High school wrestlers like seventeen year-old Leo (Danny Mousetis) spend most of their school years enduring brutal training regimens and strict starvation diets in an effort to force their bodies into sometimes unnatural weight ranges. Although Leo is used to this monastic lifestyle, having lived it since he was a young boy in order to please his overbearing, gung-ho dad (writer James Petulla), the normal temptations of high school life — sex, alcohol, even drugs — have started to appeal to him now that he's in high school. Faced with the same choices all school age kids face, Leo bears the added pressure of trying to be true to his sport, his teammates, and his father…while also being true to the person who matters most: himself.
"Reversal" is based on a true story and it shows, as this is simply one of the most realistic movies about high school sports to come along in quite a while. Vint has crafted a film that's the total opposite of the kind of mind-numbing high school crap put out by the likes of MTV and Disney. The film depicts the brutal downside of competitive wrestling, everything from the starvation diets to jogging in rubber sweat suits to the hidden Bulimic episodes, in unflinching detail. Yet, it's also a film that captures the sheer excitement and excruciating adrenaline rush felt by those competing and watching those six minutes on the mat.
Mousetis is simply fantastic as Leo; a performance as curiously understated as the film itself, which simply adds to the film's realism. It's a story that's a little too pat in the end, told in a way that drags in the middle. Yet, "Reversal" is ultimately far more entertaining, authentic and satisfying than the WWF could ever hope to be.