Latest News
U.S.A. 2008 Olympic
Team Trials in Las Vegas.  Reversal was there!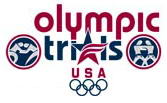 Film producer James Petulla took in the scene of the 2008 Olympic Team Trials held in mid-June at Thomas & Mack Center in Las Vegas, NV.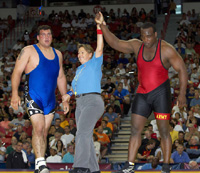 As always the competition was fierce, the matches intense.  In Grecco-Roman, 2002 World champion Dremiel Byers (Colorado Springs, Colo./US Army) made his first Olympic Team, defeating U.S. Army teammate Timothy Taylor at 120 kg/264.5 lbs.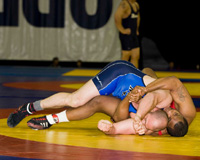 Daniel Cormier
(Stillwater, Okla./Gator WC) made his second straight Olympic team, defeating Damion Hahn (Ithaca, N.Y./New York AC) at 96 kg/211.5 lbs. All in all,four of the series went the full three matches, adding great drama to
the final night of the U.S. Olympic Team Trials event.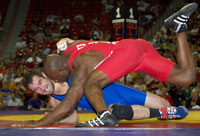 In Freestyle, at 84 kg/185 lbs., 2006 U.S. World Team member Andy Hrovat (Ann Arbor, Mich./New York AC) defeated 2005 U.S. World Team member Mo Lawal, (Temecula, Calif./Sunkist Kids) in three bouts. 

U.S.A. Rocks Olympic Wrestling —
Reversal Attends!
Film producer James Petulla was on hand at the Olympic games in Athens, Greece to witness some killer wrestling bouts.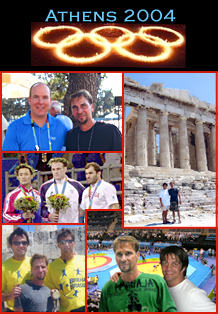 Clockwise from top left: James and Prince Albert; James and Kendall Cross (2); James with the Brazilian soccer team; Cael Sanderson accepting a gold medal.

Besides catching some incredible matches, ex-wrestler Petulla also got to hang out with his good buddy Kendall Cross (a former wrestling gold medallist), watched the U.S.A. capture gold and silver medals, and even met some British royalty!
After his Athens trip, James definitely plans
to attend the 2008 Olympics in Beijing. With Stephen Abas shooting for the gold (he captured silver in Athens), it promises to be an exciting event! 


Reversal T-Shirts Are Here!
These high-quality shirts are made for casual wear or working out: the 50/50 "dry fit" blend keeps you comfortable even during heavy excercise.
They are available in a variety of men's and women's sizes.Order yours now, before we run out!




Actor, Guido Foehrweisser and Dirk Piette with Reversal's German language version DVD.

Reversal: Wrestling Movie Going Worldwide!
In his new position as Reversal's Executive Producer for Europe's German Speaking Territories, well-known international action movie actor, Guido Foehrweisser, has launched the first international version of Reversal.
A German language DVD is available in Germany, Switzerland and Austria through their distribution company, High Day Entertainment.
German language versions of Reversal are available atwww.highdayentertainment.com.
"Every wrestler, every coach, every family member of a professional sportsman, and at last, every father sees himself in the movie."



— Wolfgang Nitschke, Head Coach and Sports Director of the German Wrestlers.



Reversal Donates $11,500 to Title IX!
James Petulla, producer of Reversal, contributed $11,500.00 to the National Wrestling Coaches Association (NWCA) for legal fees support in conjunction with a lawsuit the Association filed against the U.S. Department of Education over the implementation of Title IX.
John Rizzuti, Reversal marketing director, presented the donation to NWCA Executive Director Mike Moyer during the recent NCAA Wrestling Championships.



John Rizzuti and Mike Moyer.
"On behalf of the National Wrestling Coaches Association Board of Directors, we would like to thank James Petulla for his generous contribution of $11,500 toward our efforts to restore Title IX to its original intent. The NWCA appreciates Petulla's dedicated commitment to preserve amateur wrestling beyond his financial contribution through the inclusion of the Title IX segment promoted as an extra feature on the DVD," said Mr. Moyer.




Reversal At NCAA Championships!
To attend the 2003 NCAA Wrestling Championships in Kansas City, Kansas, Reversal Producer James Petulla flew "first class" — on a private jet! — with Dave Pottruck (Chief Executive Officer of The Charles Schwab Company, and ex-University of Pennsylvania wrestler) and former San Francisco 49er Ronnie Lott.





James Petulla and Ronnie Lott.
James and the film's two lead actors, Danny Mousetis (who plays Leo Leone) and Justin Spates (Thurman Ellis III) took the time to sign DVDs and movie posters for a number of eager fans of the movie.
Ronnie Lott was telling everyone that he couldn't wait to see the movie — so James presented him with an autographed copy of his own!
And Dave Pottruck enthused "I thoroughly enjoyed it. I thought the story was very realistic and well told. It's the story of our sport told in a compelling way."




Reversal Wins Yet ANOTHER Film Festival!
It's true! Once again, the "Little Wrestling Movie That Could" has taken the top award at a Film Festival.
Reversal won the "Best Feature" award at The Durango Film Festival, held in Durango, Colorado, Thursday, March 6 through Saturday, March 8, 2003.

Looks like the messages from wrestling — that hard work, discipline and dedication pay off in all areas of life — are being felt by people other than wrestlers. It's about time!
More information and photos to come soon.



Reversal Makes Appearance at Kurt Angle Show
The Reversal team was invited by Kurt and his manager Dave Hawk to the 1st Annual Kurt Angle Classic & Show of Strength Competition. Kurt and Dave have been instrumental in promoting the movie, and in fact they played clips during the entire event.



Top: Angela Mraz, James Petulla, Kurt Angle, Kevin Jackson. Bottom Left: James and Brock Lesnar. Bottom Right: James and Rulon Gardner.

Reversal writer/producer James Petulla was on hand to sign DVDs and movie posters. WWE champion Brock Lesnar and 2002 USA Overall Figure Champion Angela Mraz congratulated James on the film.
The movie also received kudos from 1992 Olympic and two-time world Champion Kevin Jackson (currently USA National Freestyle Team Coach), who calls Reversal "as powerful as any gut wrench!"
And Olympic and World Champion Rulon Gardner says "Got Reversal? There's nothing I would rather do than to sit by a warm, toasty fire and watch this — my favorite movie!"




Reversal WINS Two More Film Festivals!
In one weekend, Reversal took the honors at two different film festivals in two different cities.


Writer/Producer James and Alma Petulla with the IndieVision award.

This was the film that "Hollywood" said wouldn't make it because it didn't have any known stars, or gratuitous violence.
On the east coast, Reversal captured the award for Outstanding Achievement in Filmmaking at the IndieVision Film Festival, held at Robert DiNiro's place in Tribeca, New York. Not surprisingly, it was the only sold-out movie at the event!
In the midwest, Reversal took first prize at the Family Film Festival sponsored by the Dove Foundation in Yellowstone Park, MT.
Looks like audiences and reviewers alike are really captivated by the film. This wrestling saga is definitely on a roll, and with your help it won't be stopped!
Reversal was also recently selected for the Austin Film Festival, where the movie took second place — losing only to a highly-touted picture by Johnny Depp.



Malibu Film Festival Winner!
Going up against heavy hitters like Tony Danza and David Katz, Reversal captured the People's Choice Award for Best Feature Film at the Malibu Film Festival. Who says a movie about wrestling doesn't appeal to people . . .
The festival took place in world-famous Malibu, California. More than 75 filmmakers entered. Other films starred celebrities such as Jerry Stiller, Janeane Garofalo, Karen Black, Andy Dick and Ron Howard. Reversal offered heartfelt performances and a touching story!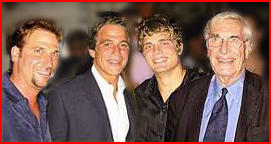 Writer/Producer James Petulla, Tony Danza, Danny Mousetis
(lead in film) and Martin Landau.





Guido and James with the Film Festival award.

Other filmmakers and actors congratulated the Petullas at the awards ceremony. Several of the players from Reversal flew in for the event as well, including Guido "Cougar" Foehrweisser (who played Thurman Ellis, Sr. in the film) and Danny Mousetis (who played the lead role, Leo Leone).
Next stop, the Indie Film Festival, held at Robert DeNiro's famous Tribecca Film Center in Manhattan. Word on the street has it that another movie was actually bumped so that Reversal could get in. Wrestlers rule!



Hollywood, California
Over the last couple of months, a number of star athletes and Olympic gold-medallists have heard about Reversal and wanted a chance to see it. So we held a special screening at Paramount Pictures in Hollywood.
Track legend Carl Lewis (9-time Olympic Gold-medallist and arguably one of the greatest athletes of our time) and gymnastics champion Shannon Miller (7-time Olympic medallist and more decorated than any other gymnast) were joined by Steve "Sting" Borden of the WCW and many others.


Writer/Producer James Petulla with WCW Champ Steve "Sting" Borden.

Helping coordinate the screening was Olympic gold-medallist wrestler Kendall Cross, who flew out from Boston for the event.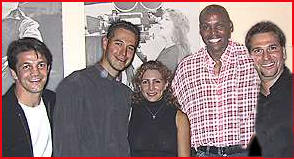 Kendall Cross, [Shannon's husband] Chris, Shannon Miller, Carl Lewis, and Writer/Producer James Petulla.



Oklahoma City, Oklahoma
The Oklahoma City openings were a success — thanks to all the people who came out and supported the film. Because of you, we took Number 2 at the box office, right behind The Rock in The Scorpion King. (Figures it would be another wrestler that captured the top slot!)
A number of star wrestlers showed up to help us launch the picture, including undefeated, 4-time NCAA Champion Wrestler Cael Sanderson, as well as 2-time NCAA Champ/2000 Olympic team member Cary Kolat. Click here to watch video clips of them talking about the movie.


From left: Writer/Producer
James Petulla, NCAA 4-time champ
Cael Sanderson, 2-time
NCAA champ Cary Kolat.

Once again, the wrestling community came out in support of this movie, and I want to thank each and every one of you for showing up, bringing your friends and family, telling your coaches and teams — and in general spreading the message about Reversal. Wrestlers are the best!


Tulsa, Oklahoma
Thanks to all of you who came to the Tulsa screening, Reversal was number one at the Box Office in Tulsa — over Disney's Snow Dogs, which opened the same night. (Too bad Cuba Gooding, Jr. wasn't a wrestler!) We also beat out every Hollywood major studio picture that weekend.



From left: Justin Spates (wrestler in movie), Writer/Producer James Petulla, and Olympic gold-medallist Kenny Monday.
Legendary wrestler/boxerDanny Hodgeand Gold-medallistsKendall Crossand Kenny Monday not only came to see the film, but are now out there endorsing it! Click here to watch video footage of their reactions. And, here are some of the things people have had to say:
"A wonderful movie that will break your heart."
–Kendall Cross, Olympic Gold Medallist





James and Olympic champion Kendall Cross.
"You have to see this great film! You can get something from it. And you can be better. I'm better. I can't wait to get to the gym tomorrow."
–Kenny Monday, Olympic Gold Medallist
"This film tells the truth of the sacrifices it takes to be a competitive athlete. I was touched by every moment. It hit me right in the pit of my stomach."
–Danny Hodge, Olympic Wrestler and Heavyweight Boxing Champion
"This is the best Independent Film I have ever seen. Simply put: brilliant!"
–Mike Furches, Cross Home Family Ministries


Sarasota, Florida
After the Film Festival I was lucky enough to have dinner with Sydney Pollack (actor, director, producer extraordinaire). Sydney confirmed that we were "the hit of the festival." Both our shows were sold out — the only two sold out shows of the entire festival!
Thanks so much to all the people that supported us by attending. You are the best!


Coudersport, Pennsylvania
A letter from Mark Goldman says it all . . .
Gentlemen,
We drove 3 hours to Caudersport, PA to see your movie. IT WAS GREAT!!!!!!!!! Please let me know what we can do to get it here. Thank you!
I live in Endicott, NY (Triple Cities) and have been involved with wrestling for over 18 years. I am a USA Freestyle/Greco Referee and my son is a past High School NY State Champion and two-time college All-American. My son is a very well known wrestler in this area and is currently coaching at the High School level.
In the Spirit of the Sport,
Reversal premiere breaks records!
Reversal opened at the Hollywood Theatres at the Crown Center in Washington, PA. The premiere was hosted by current WWF wrestling star Kurt Angle, who came to prominence even earlier, when he won the gold-medal for wrestling at the Olympics.


WWF and Gold-Medal wrestling champion Kurt Angle (left), with Reversal writer/producer James Petulla.
Myron Cope, the "Voice of the Pittsburgh Steelers," caught the opening, and legendary Oklahoma University wrestling coach Jack Spates was there as well, along with the new Olympics wrestling hopeful Michael Lightner.
Click Here to watch the movie trailer, which includes scenes from the movie and reactions from Kurt, Myron and Jack, as well as reviews from other attendees of the opening weekend.





From left: Coach Jack Spates, Myron "Voice of the Steelers" Cope and Olympic wrestling contender Michael Lightner.
On its opening weekend in Washington, PA, the movie beat out all the Hollywood blockbusters released concurrently, including Rockstar, Glass House and Hardball.
The weekend box office gross for Reversal was over $8,000.00 per screen.
Reversal even surpassed last year's box office for the very same weekend, which included major releases "Meet the Parents" and "Remember the Titans."





Wrestlers in the movie, from left: Derek Nelson (young Leo), Danny Mousetis (Leo) and Justin Spates (Thurman).
Even the earlier release of Spielberg's A.I. was overshadowed by Reversal.



Interested in VHS or DVD copies of Reversal? Click here to order!



Currently this movie is being self-released in selected theatres by the production company, James Petulla Pictures / Career Connection Productions. To inquire about sales/acquisition or distribution, please e-mail:
[email protected]
| | |
| --- | --- |
| Reversal's lead actor, Danny, and producer, James Petulla, hold L.A. Lakers' Threepeat Official Game Ball (signed by Kobe Bryant & Shaquille O'Neal). Independent film fan, Shaq, gave James his blessing and best wishes during a Reversal editing session. | |
Shaq won this years ESPI Award (besting Tiger Woods and Barry Bonds) for best athlete; and coincidently, was in the running with Cael Sanderson.