Justin's Scrapbook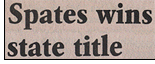 Justin was well-qualified to play a high-school state champion wrestler in the movie: after all he is one. And he understands the pressure of competing fathers, as Justin's coach was a long-time competitor of Justin's father.
Right: The paper reports Justin's victory. Below left: putting a headlock on his opponent. Below right: a ticket from one of Justin's meets. Bottom left: in the news again. Bottom right: the victory pose.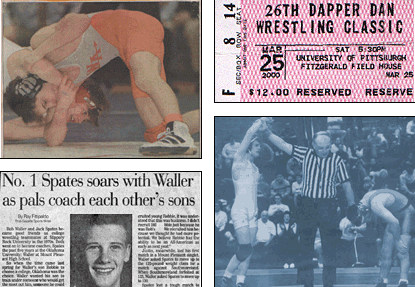 ---
Reprinted from the Daily Courier, 2000
Mt. Pleasant's Spates wins state title
Connenllsville's King, Southemoreland's Yoder take second
By the Daily Courier
He finished second in Oklahoma last season, but Mount Pleasant wrestler Justin Spates proved the he was the best in Pennsylvania as he captured the 112-pound championship at Hershey Saturday.
Spates earned the title by beating Pottsville's Brian Burns 3-0 in the semifinals then beating Mario Stuart 4-2 in the championship bout. Spates' victory came with his father, Oklahoma University coach Jack Spates, watching him for the first time this season. Justin Spates was a runner up last year before moving to Pennsylvania.
"This is a great feeling, better than I dreamed," Spates said. "I wish I could have wrestled better at the start."
In the early stages of the match, Spates fell behind as Stuart grabbed the early lead with a takedown. But Spates got an escape and then a takedown to jump in front 3-2 as the first period came to a close.
"I usually wrestle with confidence when I have the lead," Spates said. "I knew I could control him."
Spates escaped from the bottom in the second period and was able to control Stuart from the top position in the third period.
"When I got the Turk in, I knew it was over," Spates said.
"Justin did a real good job," Mount Pleasant coach Rob Waller said. "We call him squiggly because he is a tenacious and squiggly guy, He can squiggle out of tough situations. I'm happy for him and his parents and for the school district."
The night was also memorable for Waller because he was inducted into the Pennsylvania Wrestling Hall of Fame.
"It was nice," Waller said. "I got to see a lot of old friends and it was an honor to be inducted."
---
Reprinted from the Tri-State Sports and News Service, 2001
Pennsylvania stars pin U.S.
Spates' upset victory at 119 leads the way to 34-12 rout
By David Assad
Tri-State Sports and News Service
Justin Spates did not appreciate wrestling in the shadow of Georgia state champion Chris Rodrigues going into the Dapper Dan Classic at the Pitt Fitzgerald Field House last night.
The Pennsylvania All-Stars, led by Spates' upset of Rodrigues, defeated the United States All-Stars 34-12.
It is the second consecutive year Pennsylvania has won, giving the state a 15-11 lead in the series.
Spates, a two-time PIAA Class AAA champion at 119 pounds from Mount Pleasant, earned a 3-2 decision over the highly touted Rodrigues to grab the Classic's Outstanding Wrestler honor.
Rodrigues, of Marietta, GA, and bound for the University of Michigan, was scheduled to wrestle both of Pennsylvania's 119-pound state champions. Rodrigues bowed out of his second match, slated after the heavyweight bout, because of aggravating an elbow injury against Spates.
Dante Lewis, a state champion from Omaha, NE, who won at 119 in the preliminary match against the WPIAL, filled in for Rodrigures. Lewis lost by a 16-0 technical fall to PIAA Class AA champion Chris Fleeger of Loyalstock.
"I wanted [Rodrigues] first when he wasn't tired," Spates said. "I got him fresh. I'd have to say he's one of the top three or four wrestlers that I've ever wrestled."
"I got to meet him [Friday] and talk to him for a few minutes. He seems like a nice kid. I hate to say he's cocky, but I know he came in very confident in himself the way he talked about wrestling me and Fleeger."
Rodrigues, 172-2 in his scholastic career, wrestled with his left elbow taped, the result of a hyperextension in practice earlier this week.
"I guess I feel sorry for him, but it didn't seem to hurt him the way he was underhooking me with it the whole match" Spates said. "He had a move that I faced in the [Oklahoma] state finals two years ago [when Spates lived in Norman and lost as a sophomore to another wrestler]. I knew it was coming, but I started to fight it before he could hit it."
Rodrigues' only comment about Spates was, "he's a decent wrestler."