Guido's Scrapbook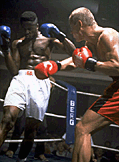 "7 8 9 Out," filmed in Munich, in which Guido plays a boxer named Hannes Roll, who has just come out of the Olympics and is striving to make it as a pro fighter. To prepare for this role, Guido spent 6 months training with the 1992 German Olympic Team in Berlin.
German actor Guido Foehrweisser starred in a great number of European and German theater plays, television shows, and motion pictures, before he came to the United States to further his acting career six years ago.
Since then, he has been a guest star on prominent American TV shows, such as The X-Files and Martial Law, and could be seen in a number of feature films, including Crime of The Century (starring Isabella Rossellini and Academy Award winner Stephen Rea), GIA (starring Academy Award winning actress Faye Dunaway and Angelina Jolie), and most notably in the Emmy award winning James Dean (starring Golden Globe winner James Franco).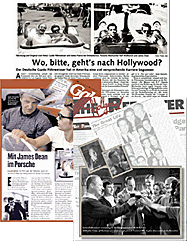 Top (left): With James Franco in the Emmy award winning The James Dean Story (a Golden Globe winner currently airing on TNT, scheduled for home video release later this year). Guido played Rolf Wuetherich — a race car mechanic, racing partner and close friend to James Dean. Top (right): the actual photo of Wuetherich and Dean. Left: An article on the movie. Right: Co-starring in the Emmy-nominated Mark Rydell's HBO film "Crime of The Century."
Most recently he was cast for a role in the upcoming 20th Century Fox comedy Just Married (starring Brittany Murphy and Ashton Kutcher), which will open in theaters this spring.
Guido serves as a co-producer for the film Reversal. He and James Petulla are currently working on developing a heart-warming film that is set in his home state North-Rhine-Westphalia and Berlin, Germany. This will be their second project under their company, titled: "The German American Friends High Day Entertainment." This production is set to start production some time next year and will be filmed primarily in Germany.
As a sword and fencing master, Guido has choreographed and directed theatricals and operas such as Romeo & Juliet, the Musketeers, Carmen, Othello and many others.
Guido Foehrweisser is a frequently invited guest of the legendary Actors Studio, West, in Los Angeles.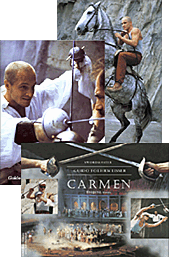 Top: Guido served as Horsemaster and Swordmaster during the production of "Carmen," in Bregenz, Austria. Left: Scene from the theatrical production of "The Musketeers." Right: Playbill from "Carmen."


For more information contact:
Management:
American Artists Group
Sharon Nixon Kelly
(818) 501-8917
Publicity:
Alexander V. Wechmar
ALCO Productions
(323) 467-6664
To purchase Reversal in the German language, please contact Guido Föhrweißer, the producer & distributor of the German-language release by email at [email protected].
Guido will arrange the sales for screenings of Reversal in Germany, Austria, Switzerland, and anywhere in the world where an audience may like to enjoy Reversal in the German language.
The rights for German speaking territories are available for Movie Theaters, Television, and streaming. Purchase is also available for Reversal in the finest lip-synchronized German version on DVD.
DVD copies autographed by Guido Föhrweißer are available upon request until the very last copy is sold.